As you may have read during the year, most port we enjoy are at home with the family. At Christmas the family is of course joining at home and enjoying food and wine together. This year we started early, on the 19th of December. We started the evening with a vintage 2000 champagne, Cuvee Nicholas from Billecart-Salmon and after that lobster together with Les Lys Prem. Cru  2013 from Chablis and to the elk entrecôte a Ch. Cheval Blanc 1976. On the 20th we started in the afternoon with a bottle of O-Port-Unidade Vintage Port 2013 that we very kindly got from Axel Probst.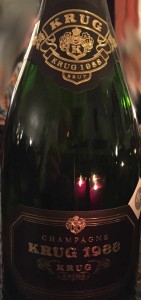 We started the evening with Krug's vintage champagne from 1988 which was delicious and then we had scallop, duck liver and pâté from shell fish together with Montrachet, Marquis de Laguiche Grand Cru from Joeseph Drouhin and Ch. Haut Brion Blanc, Grave both from 1990 and wonderful with the course. As main course we had yak (yes a bit strange, but we always try to eat something special during one dinner the days before Christmas, and the yak was delicious) and this was accompanied by Ch. Latour 1945 and Ch. Mouton Rotschild 1955 both unbelievable and wonderful. As dessert we had saffron ice cream with figs and chest nuts from Baskien together with port wine; Silva & Cosens vintage 1915 and Starling vintage 1887, probably from Taylor, both were delicious.
The 21st of December our dinner was first pâté from roe-deer with Ch. Daise-Daene 2005 and after that Ch. La Lagune 1982 to filé of a deer?
On the 24th of December, to the stilton, we had Royal Oporto vintage from 1977 and Constantino's vintage from 1950.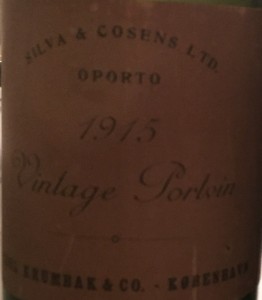 On the 25th we started with Alfred Gratien Brut Champagne, an old bottle, and after that we ate spare-ribs with Ch. Montrose 1970, and to the cheese-cake we had a bottle of Feist vintage 1995
The next day we started with Belle Epoque 1990 Champagne and to the first course, a pâté of salmon, we had Beauregard Prem. Cru from Chablis 2014 from Fournier and Gewurztraminer Grand Cru Mambourg 2012 from Dom. Weinbach, Alsace. To the main course was filé of elk and we enjoyed Ch. Lafite Rotschild and Ch. Latour both from 1983. An intermission port i.e. a Bicentenary Crusted Port from Fonseca bottled 2008 was needed before the Christmas pudding and Kopke's vintage from 1935 and Chaplin's vintage from 1945.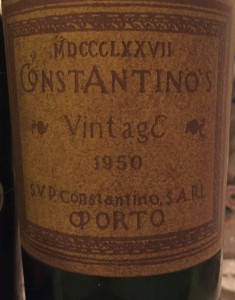 On the 30th   we just had a glass of Calem's Quinta da Foz 1996 on the afternoon and on the 31 st we started the day on the afternoon with a vintage champagne 2006, Grand Cru from Mailly and as always on the last day of the year an old "dead" German wine, this year it was a 1945 Mettenheim from Rheingau. In the evening as usual lobster together with A. Bergère's Cuvee Prestige vintage champagne from 2000. To the rein-deer we had Ch. Pichon Longueville Comtessa from 1989 and ended with Quinta do Noval 1960 to the dessert which was soufflé of French plums.
The Christmas celebration for the family ended on the 5th of January. This day we started with Blanc de Blanc Grand Cru Champagne Cuvée St-Vincent 1996 from R.L. Legras mature and lovely. To the terrine from pheasant we had a Vendage Tardive Pinot Gris, Grand Cru Brand 1988, Alsace. The main course was entrecôte of deer accompanied with Reserva 904 1973 and 1970 from La Rioja Alta and to the dessert which was glace au four we enjoyed Borges & Irmao's  vintage and their Quinta do Junco vintage both from 1960. As we are already longing for next Christmas we ended the day with Bual vintage 1878 from Christopher's. No better way to end two lovely weeks.
During our web-site existence 2012-2015 we have now passed 125.000 visitors and during the last 3 years we have had approximately 35.000 visitors per year. Now we have had 170 different countries visiting our web-site. Amazing we think, and we are very proud indeed. This year we have added or updated more than 175 tasting notes, which are quite a lot we think. Hope to see you and receive more mail from you during next year. Please do not forget to read our "Help needed" so we can give you as much information as possible.