The Wine Society 18%, Malmö Sweden, had a Great Tasting on the 16th and 18th March 2017 of 31 different 1983 Vintage Ports. As always for these Great Tastings the expectations were high, especially for a Vintage like 1983 that has been praised by wine critics and experts. To be honest, this time the truth did not meet our expectations. There were too many wines that were over the hill and showed volatile acidity or oxidation. Unfortunately there were also some that we classified as defect due to bad corks. We have had several other Great Tastings of older Vintages but we have never had so many bad or poor wines. On the other hand some of the wines are really good, you just need to know which they are, and avoid the others.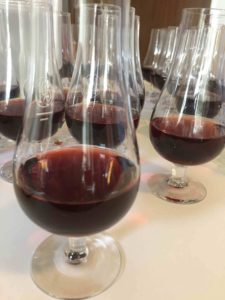 As always both Taylor and Fonseca are good, even if some in the group did not fully appreciate the Fonseca. Both are quite mature, the Taylor looks surprisingly light in colour but it is as always very generous in the bouquet and wonderfully delicate on the palate with raisins, orange zest, dark chocolate and cacao. It is a full bodied wine and has a long attractive finish.
Some of the absolute best wines from the Vintage are from the Symington's. When looking at the total ranking from the total tasting group they actually took the four top places! The top scorer of the night was Quarles Harris followed by Gould Campbell, Grahams and then Smith Woodhouse. The Quarles Harris is still quite dark in colour but with a mature yellow rim. It shows all the attributes of a Vintage Port on its peak, with coffee, tea, cacao and much more in the bouquet, On the palate the wine seems to remain forever in the mouth – truly a perfectly balanced port wine.

Please read all of the tasting notes and all our scores and ranking under Great Tasting 1983.