Our wine club 'The Wine Society 18%' celebrates its 23rd anniversary this year and we have during these 23 years tasted quite a lot of vintage port. It has been altogether 612 different vintage ports ranging from 1873 to 1999 and of course we have tasted a lot from the 21st century too. Unfortunately we have only tasted 3 vintage ports from the 19th century. We are 15 members and have 5 meetings every year and then some extra now and then.  As we are only 15 members, we can have quite rare bottles i.e. 1 bottle is enough. The meetings are in Malmö, Sweden.  In November every year we have a Great Tasting of either a Vintage or a House. We have so far tasted 1947 (semi-Great), 1960, 1963 (twice), 1966, 1970, 1975, 1977, 1978, 1979, 1980, 1982, 1984 (semi-Great) and once also just a House which was Cockburn from 18 different vintages from 1904 to 1994.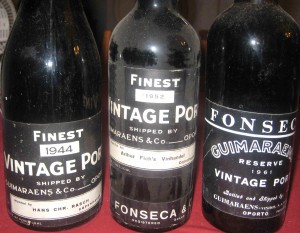 This year we wanted to do a new house tasting, even if this is much more difficult than a vintage tasting. Still we were lucky enough to find quite a lot of Guimaraens, so we enjoyed 18 different 20th century Vintages from Guimaraens in the range 1944-1998.
Please read all details, including tasting notes and ratings here.