We have had a wonderful winter with some excellent tastings.
In February the Wine Society 18% in Malmö had a Semi-Great tasting (i.e. below 20 houses) of the vintage 1984, which we have already written about here. You find all our larger tastings in the special section for Great Tastings.
In March we had a very interesting tasting of all seven vintages from Quinta do Vesuvio in-between 1989-1996 in the Danish Port Wine Club est. 1981 in Copenhagen. They were all very wonderful and many of them still needs some more age in the bottle.
On the 18th of March i.e. after 3 years 2 months and 18 days we had our 100.000 visitor on our web-site. These visitors have been from more than 150 different countries! We are very surprised, but of course also happy, to see that Vintage Port seems to be popular all over the world!
Easter started on Thursday and we started with Mercier vintage 2004, elegant and tasty and Ch. Mouton Rotschild 1993 with the duck breast, which was quite good and attractive. Good Friday we started with Belle Époque vintage 1990. Then we had lobster with Alsace Grand Cru Engelberg Riesling vintage 2010 from Dom. Pfister and Ch. Bouscaut vintage 2008, Grand Cru Classe from Grave. The main course was horse filet which was accompanied with Ch. Lafite Rothschild 1985 and Ch. Margeaux 1985 and the dessert was accompanied with vintage port of course. They were 1955 Borges which was old, turbid and when decanted, it looked like a white port in the beginning but muddy and terrible at the end. The cork was from Borges but said 1980!? This was not good at all. The other vintage port was Calem 1955 produced by Quinta da Foz and Santo Antonio and it was delicious.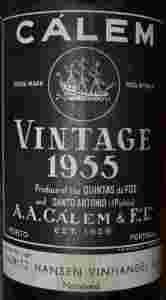 Easter Eve we started with de Venoge's  Grand Vin des Princes vintage 1993. With the pâté we had Scloss Johannisberg Riesling, auslese, Cabinet from 1893 (sic), still knit together but of course a bit dry which we maybe had expected and Ch. Filhot, Sautern from 1904 still wonderful sweet and very attractive. With the lamb we enjoyed Ch. Cheval Blanc 1985 and Ch. Latour 1985 and with the dessert we had 2 very mature and delicious vintage ports, Tuke Holdswoth 1935 and Ramos Pinto 1935. We had a nice night's sleep after that.