Due to a Birthday within the family we went to Skagen, Denmark to celebrate. We started already at home, 3 days before with Reichsrat von Buhl's Forster Ziegler Riesling Auslese 1945 as aperitif which was delicious indeed. After that Grand Cru Moenchberg Riesling from Guy Wach, Alsace to the first course, followed by Ch. Latour 1987, Ch. Haut Brion 1975 and Ch. La Misson Haut Brion to the main course. La Misson was outstanding indeed. A marvelous wine after 40 years to enjoy today and it will keep for some years more. To the dessert we followed up with F. Martin's vintage 1977 and 1982.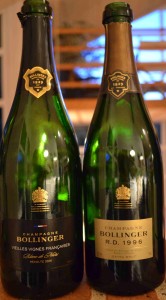 When we arrived in Skagen we started the celebration with Bollinger Vielles Vignes Francaises, Blanc de Noir 2005 because we dared not to take too old wines with us in the car. It was a truly marvelous champagne and the first time we drank it. After that, before eating, we had another Champagne, 2004 Brut, Grand Cru from Petit-Lebrun just to make sure to feel that celebration week had started. To the first course we had Moutonne Grand Cru 2003 from Dom. Long-Depaquit, Chablis. The wine was elegant as always. After that Ch. La Misson Haut Brion 1997 and Clos de la Roche, Grand Cru 1998 from Vicent Girardin, Morey St. Denis and ended up with a dessert and Silval Vintage 1999 from Noval and Calem Vintage 1960.
Next day the evening started with a new lovely and elegant Champagne from Bollinger; their R.D. Extra Brut 1996. We continued with a Riesling 2012 Grand Cru Frankstein, Dom. Mersiol from Alsace and a white Ch. Latour Martillac 2011, Grand Cru Classe from Grave. To the meat we enjoyed Corton – Clos de la Vigne au Saint 2006 Grand Cru from Louis Latour, and Ch. Palmer 1985 and ended the evening with Ramos Pinto Vintage Port 1945 and a Madeira, Bual Solera Centenary 1845 from Cossart Gordon. Both wonderful wines.
The next day we started with Henriot champagne vintage 1996 (excellent) and continued with Riesling, Grand Cru Wineck-Schlossberg 2008 from Albert Schoech, Alsace and Les Fourneaux Prem. Cru 2011 from Louis Moreau, Chablis. The meat was enjoyed with Corton -Le Rognet Grand Cru 2006 from Maison Ambroise and Ch. Beychevelle 1975 both really mature and exciting. This evening we ended with Wiese-Krohn Vintage port from 1967 and 1965.
The 4th of August we started the evening with a wonderful champagne from Michel Gonet, Vintage 1996 and the paté was enjoyed with a marvelous Ch. d'Yquem 1973. To the grilled salmon we had Riesling Grand Cru Altenberg de Wolxheim 2013 from Arthur Metz, Alsace and Gewurtztraminer Grand Cru Kirchberg de Barr 2004 from Dom. Hering, Alsace. The ports this evening were Messias' Quinta do Cachao Vintage 1966 and 1976.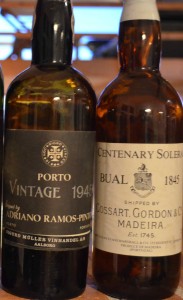 The next day we started with two champagnes. The first bottle was Cuvee Cleo Blanc de Blanc from Esterlin which was followed with the Vintage 1996 Cuvee Fleur de Champagne from Duval-Leroy. How lucky we were! The wine to the first meal was Riesling Grand Cru Rangen 2008 from Wolfberger, Alsace and the entrecôte was enjoyed with Ch. Leoville Barton 1980 and Ch. Leoville Poyferre' 1962, both wonderful and mature. Now we had no more port left so to the dessert Ch. Doisy Daëne 2007 and Bernkasteler Doktoren, Riesling, Beerenauslese 1976 from Lauenburg was drinking well.
On the 6th of August the champagne was vintage 2008 from Louis Roederer. The paté was enjoyed with Riesling Auslese Steinberger 1976, Staatsweingut and Ch. Suduiraut 1990. The meat was accompanied with Lacryma Christi del Vesuvio Reserva 1999 and "Les Crais" Prem. Cru 2009 from Camille Giroud, Gevry-Chambertin. Due to weight increase no dessert wines this evening.
The last day in Skagen the champagne was Huré Frères Blanc de Blanc from 1996. We continued with a Gewürztraminer Grand Cru Prelatenberg 2012, Alsace and Rauenthaler Baiken's Riesling Auslese from 1976, Staatsweingut. The meat was enjoyed with Clos de Mouches 1986, Prem. Cru from Joseph Drouhin, Beaune and Cabernet Sauvignon Bella Oak vineyard 1982 from Heitz, Napa Valley. Both wines perfect mature and wonderful to drink. The day was lucky for us because we found a cheap Rozes Vintage Port in Skagen and the 2010 was a perfect ending of an unforgettable week.