Great Vintage Port Tasting
Messias - 30 Years Jubilee Tasting 18%
Our wine club The Wine Society 18% celebrates its 30th anniversary this year. In 1992 the Society was planned for by 6 persons, where of only Sten is still a member, but two more participated in our Jubilee Tasting. The actual start of the Wine Society was in 1993, a difficult year for Vintage Port, but the Wine Society still stands strong after all these years. Since many years also Jörgen and Stef-an are members. We have during these 30 years tasted quite a lot of vintage port. It has been alto-gether >800 different vintage ports ranging from 1862 to 2014. Unfortunately, we have only tasted 4 vintage ports from the 19th century.
The Wine Society 18% have 15 members and have 5 meetings/year, and some extra every now and then. Since we are only 15 members, we can have quite rare bottles as one bottle of each is enough.
The Wine Society 18% has had once a year a Great Tasting since 2005. It all started with a Great Tasting of the vintage 1963 with 39 houses. Since then we have had 21 Great Tastings spanning vintages between 1947 and 1992. We have only had 7 house tastings during these years so we decided to have a Messias/Quinta do Cachao Tasting as our 30 Year Jubilee Tasting.
Messias was established 1926 by Mr. Messias Baptista who got involved in the Port Wine business and production in 1934 but started shipping Vintage Port in 1950. He was chief for the house until 1973 and today, the descendants are in the board of directors. Until 2009 the label Quinta do Cachão (or only Cachão) was used on some markets for the exact same wine as Messias. 2009 was the first time two different Vintages were produced in the same year; both Messias and Quinta do Cachão.
The tasting was held on May 4 and we were 15 participants in the tasting, including 4 old members. The tasting was semi-blind i.e. we knew which wines participated in each Flight but not what we had in each glass. We had 2 Flights.
First flight: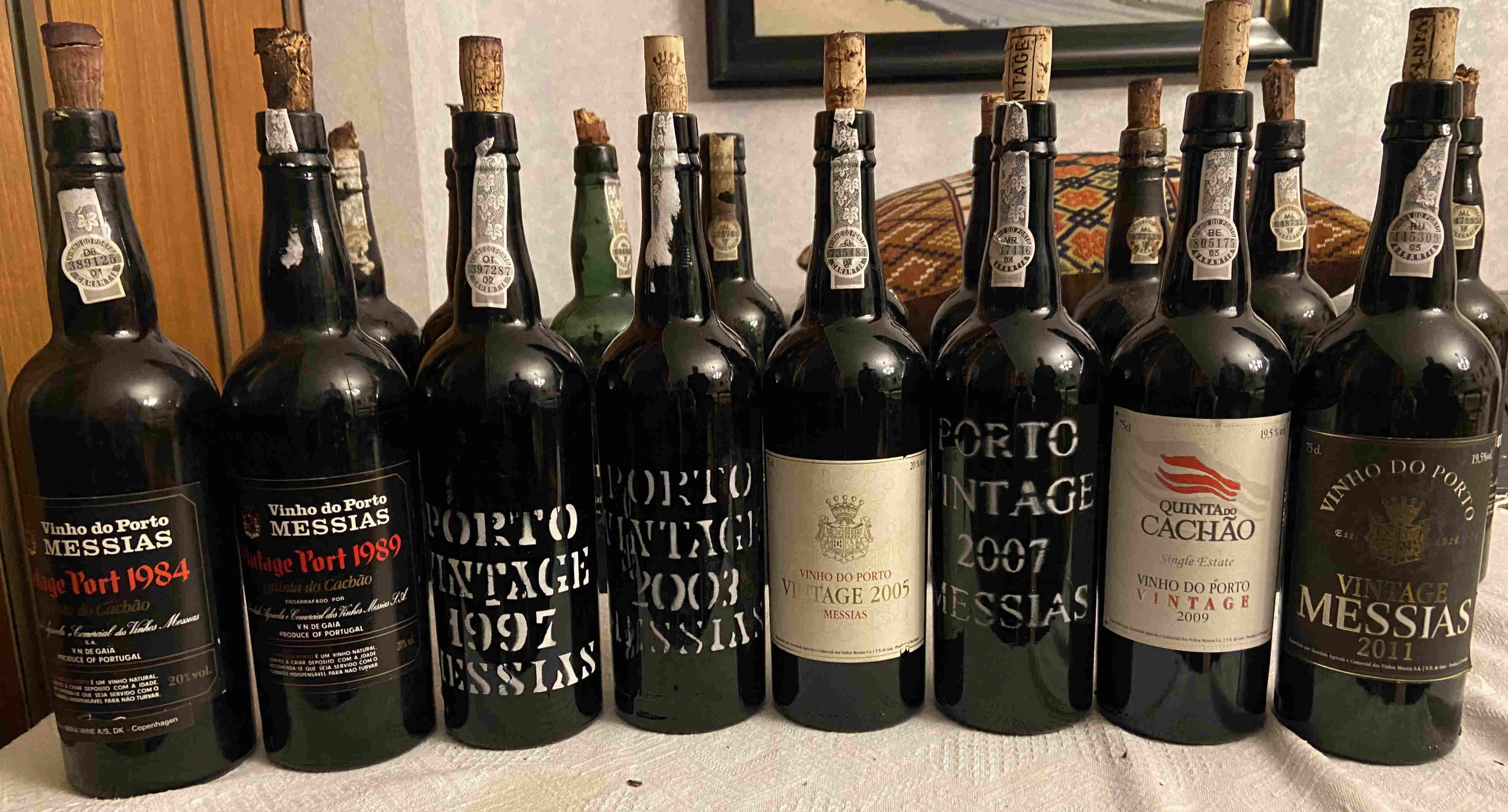 Second flight: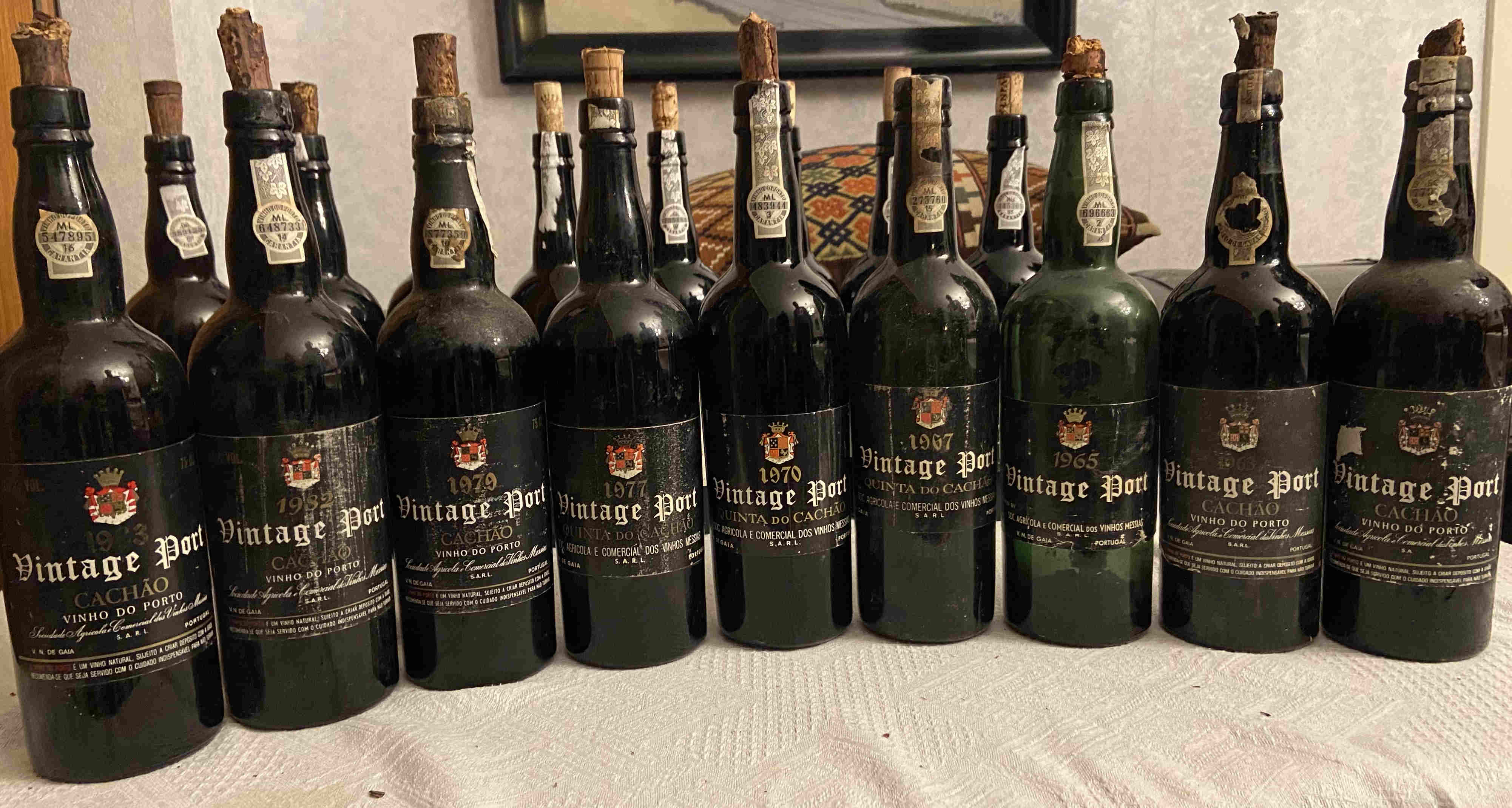 Tasting notes. Note that the points are for the actual bottle tasted. Read about how we set point on the page "How to understand our points valuations"

Sort on: Vintage Sten's rank Jörgen's rank Stefan's rank Group's rank

House
Messias
Vintage
1965
Colour
Yellow, mature in colour.
Bouquet
Cacao, dark chocolate, ginger, roses, herbs and old grocery shop in the nose.
Taste
Medium body. Mature and peaking. Balanced and very tasty with cacao, chocolate, ginger, roses and much more in the mouth with a lovely, quite long and quite attractive finish.
SAI point
16.25
JB point
16.50
SS point
16.90
Group point
15.97
SAI rank
2
JB rank
1
SS rank
1
Group rank
5
Comment
House
Messias
Vintage
1997
Colour
Yellow mature in colour.
Bouquet
Cacao, some chocolate, toffee, herbs, cream candy and old grocery shop
Taste
Lovely body. Mature and peaking but with some light tannins. Balanced and quite tasty with an elegant, rather long and quite attractive finish.
SAI point
16.00
JB point
14.00
SS point
15.50
Group point
15.13
SAI rank
4
JB rank
15
SS rank
11
Group rank
14
Comment
House
Messias
Vintage
2003
Colour
Black in colour.
Bouquet
Fruity and dark cherry in the nose.
Taste
Medium body. Immature and lots of tannin. Good and quite easy to like. Not a long runner.
SAI point
15.25
JB point
15.00
SS point
15.25
Group point
15.57
SAI rank
13
JB rank
14
SS rank
13
Group rank
11
Comment
House
Messias
Vintage
2005
Colour
Quite dark with a yellow edge.
Bouquet
Pharmacy, old hospital and some volatile acidity in the nose.
Taste
Medium body. Quite unbalanced and alcoholic. Drinkable when we started but very soon the volatile acidity took over. The finish was quite short and not quite okay. Hard to give aggregable points. This bottle was defect even if it was agreeable in the beginning.
SAI point
12.75
JB point
13.50
SS point
12.00
Group point
14.13
SAI rank
17
JB rank
16
SS rank
16
Group rank
16
Comment
House
Messias
Vintage
2007
Colour
Still quite dark but yellow, mature in colour.
Bouquet
Ripe plum, chocolate, cacao, herbs and spiciness in the nose.
Taste
Medium body. Mature and almost peaking but will improve due to some very elegant and round tannins. Balanced with chocolate, cacao, herbs and spiciness in taste. With an elegant, quite long and attractive finish. A lovely port indeed.
SAI point
15.75
JB point
15.50
SS point
16.25
Group point
15.77
SAI rank
9
JB rank
11
SS rank
6
Group rank
8
Comment
House
Messias
Vintage
2011
Colour
Quite yellow mature in colour.
Bouquet
Roasted coffee, cacao, some herbs, spiciness and old grocery shop in the nose.
Taste
Medium body. Balanced and quite opened and mature but will probably be better. The finish is quite attractive and elegant and so is the port but in a quite modern style.
SAI point
15.75
JB point
15.50
SS point
15.75
Group point
15.67
SAI rank
9
JB rank
11
SS rank
10
Group rank
9
Comment
House
Quinta do Cachao
Messias
Vintage
1960
Colour
Mature, yellow in colour. Quite beautiful indeed.
Bouquet
Toffee, chocolate, cacao herbs, raisin, coffee, spiciness and old grocery chop in the nose.
Taste
Medium body. Mature and peaking. Balanced and very tasty toffee, cacao, chocolate raisin and lots of other, lovely things in the mouth. The finish is elegant. Quite attractive, quite long and lovely. Just drink this port and enjoy it now – it will not be better but is quite wonderful today.
SAI point
16.25
JB point
16.50
SS point
16.25
Group point
16.27
SAI rank
2
JB rank
1
SS rank
6
Group rank
2
Comment
House
Quinta do Cachao
Messias
Vintage
1963
Colour
Yellow, very mature in colour.
Bouquet
Toffee, cream candy, herbs and zest of an orange in the nose.
Taste
Medium body. Mature and peaking. Will not be better so drink it and enjoy it now. Balanced and tasty with toffee, candy, herbs and orange zest in the mouth. The finish is quite attractive, rather long but very elegant.
SAI point
15.90
JB point
16.00
SS point
16.25
Group point
15.37
SAI rank
5
JB rank
7
SS rank
6
Group rank
12
Comment
House
Quinta do Cachao
Messias
Vintage
1967
Colour
Light yellow and mature in colour.
Bouquet
Cacao, candy, some toffee, zest of an orange and some honey in the nose.
Taste
Hardly medium body. Mature and peaking. Will not be better so drink up. Balanced and tasty. Very easy to drink today and enjoy with an elegant but maybe rather short finish.
SAI point
15.90
JB point
16.00
SS point
15.00
Group point
15.83
SAI rank
5
JB rank
7
SS rank
14
Group rank
6
Comment
House
Quinta do Cachao
Messias
Vintage
1970
Colour
Beautiful yellow mature colour.
Bouquet
Crème caramel, cacao, dark chocolate, toffee, coffee, tea, herbs and much more. Wonderful nose.
Taste
Full bodied. Mature and peaking and is perfect today with lots of taste such as crème caramel, cacao, chocolate, coffee beans and much, much more. Balanced, elegant and very complex with a very long and lovely finish.
SAI point
16.75
JB point
16.50
SS point
16.40
Group point
16.40
SAI rank
1
JB rank
1
SS rank
5
Group rank
1
Comment
House
Quinta do Cachao
Messias
Vintage
1977
Colour
Very beautiful almost tawny in colour.
Bouquet
Unfortunately unbalanced and quite a lot of volatile acidity and acetone. Not particularly enjoyable.
Taste
Lovely body but taste dominated of not quite balanced acidity but with a drinkable finish, maybe
SAI point
14.00
JB point
13.50
SS point
11.00
Group point
14.10
SAI rank
15
JB rank
16
SS rank
17
Group rank
17
Comment
House
Quinta do Cachao
Messias
Vintage
1979
Colour
Yellow mature in colour.
Bouquet
Cacao, chocolate, herbs, citrus zest and old grocery shop in the nose.
Taste
Medium body. Mature and peaking. Will not improve so drink and enjoy it now. Lovely cacao, chocolate and herbs in taste. Balanced and elegant port. A little honey in the finish, which is quite long, elegant and attractive.
SAI point
15.40
JB point
16.00
SS point
16.50
Group point
15.83
SAI rank
12
JB rank
7
SS rank
3
Group rank
6
Comment
House
Quinta do Cachao
Messias
Vintage
1982
Colour
Yellow very mature in colour.
Bouquet
Crème caramel, toffee, nutty, candy, some butterscotch and cacao in the nose but also some spiciness and nougat.
Taste
Medium body. Mature and peaking. Balanced with toffee, cacao, candy, nuts and some spiciness in taste. Quite tasty and elegant with a lovely, now long and very attractive finish. Will probably not be better but is wonderful now!
SAI point
15.75
JB point
16.50
SS point
16.50
Group point
16.20
SAI rank
9
JB rank
1
SS rank
2
Group rank
4
Comment
House
Quinta do Cachao
Messias
Vintage
1983
Colour
Yellow, mature, very beautiful in colour.
Bouquet
Cacao, chocolate, coffee, roses, raisin, herbs, candy and gingerbread in nose. Very generous bouquet indeed.
Taste
Medium body. Mature and peaking. Will not be better but is wonderful today. Balanced and elegant. Herbs, coffee, ginger, crème caramel and cacao in taste. Dry but easy to drink and like. Very attractive with a lovely and quite long and very elegant finish. Just drink it and love it!
SAI point
15.90
JB point
16.50
SS point
16.50
Group point
16.23
SAI rank
5
JB rank
1
SS rank
3
Group rank
3
Comment
House
Quinta do Cachao
Messias
Vintage
1984
Colour
Still quite dark but yellow mature in colour.
Bouquet
Liquorice, cream candy, cacao, roasted coffee, zest of oranges and cinnamon in the nose.
Taste
Medium body. Mature and on top. Taste of cream candy, roasted coffee, herbs and liquorice. Balanced and lovely and easy to drink with a quite complex, rather long and lovely finish.
SAI point
15.90
JB point
16.00
SS point
15.90
Group point
15.63
SAI rank
5
JB rank
7
SS rank
9
Group rank
10
Comment
House
Quinta do Cachao
Messias
Vintage
1989
Colour
Yellow mature colour.
Bouquet
Pharmacy, burned sugar and butterscotch in the nose.
Taste
Medium body. Mature and peaking with a little unbalanced acidity but quite drinkable. Burned sugar in taste and an acceptable, light finish. Not quite convincing.
SAI point
13.50
JB point
15.50
SS point
13.50
Group point
14.43
SAI rank
16
JB rank
11
SS rank
15
Group rank
15
Comment
House
Quinta do Cachao
Messias
Vintage
2009
Colour
Quite yellow and mature in colour.
Bouquet
Flowers, cream candy and some spiciness in the nose.
Taste
Quite light in body. Mature and peaking but with some acidity which may do that it will improve. Balanced and quite tasty with an interesting, quite long and rather attractive finish.
SAI point
15.25
JB point
16.50
SS point
15.50
Group point
15.37
SAI rank
13
JB rank
1
SS rank
11
Group rank
12
Comment