Great Vintage Port Tasting
Portal
The Wine Society 18% had a tasting of the house Portal on March 15, 2018. Out of the 15 Vintage Ports the producer has released, we had 14 in this tasting. This includes some Single Quinta Vintages from Quinta do Portal and Quinta dos Muros. The tasting was blind, meaning that the group did not know the theme of the tasting. They didn't even know that all 14 wines were from the same producer or that they were Vintage Ports. Only the arrangers of the tasting, two members of the Wine Society 18%, knew the setup. So for all three of us this was a total blind tasting, we did not know the producer or the Vintages.
You can read more about the house of Portal here.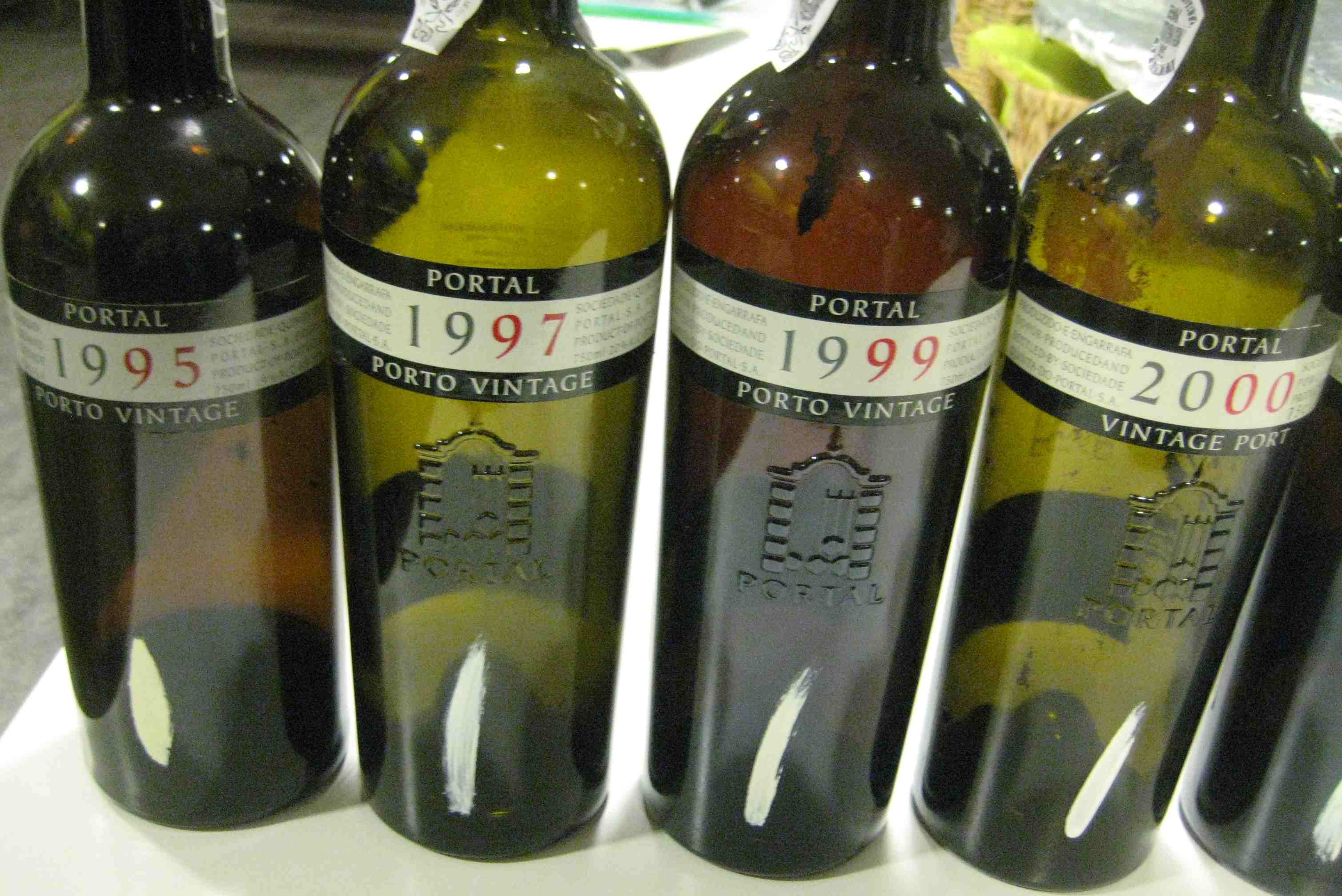 The wines were served ordered by age, youngest first and oldest last. One of the wines was by some of the tasters considered to have a deficiency in the bouquet (Vintage 2003 +) which affected the points, but all the other wines were in perfect condition.
For about half of the tasters in the group the house of Portal were unknown. We have of course tasted them several times before since they have been available in Denmark for many years. The Portal wines are in general having a good fruit with dark berries, mulberry and cherries but also notes from the oak, like cacao, roasted notes and a bit of spiciness in the more mature Vintages. Interesting to see is that the big Vintages like 1997, 2000, 2003 and 2007 all performed very well. More surprising was that the still young 2009 Quinta do Portal reached 3rd place.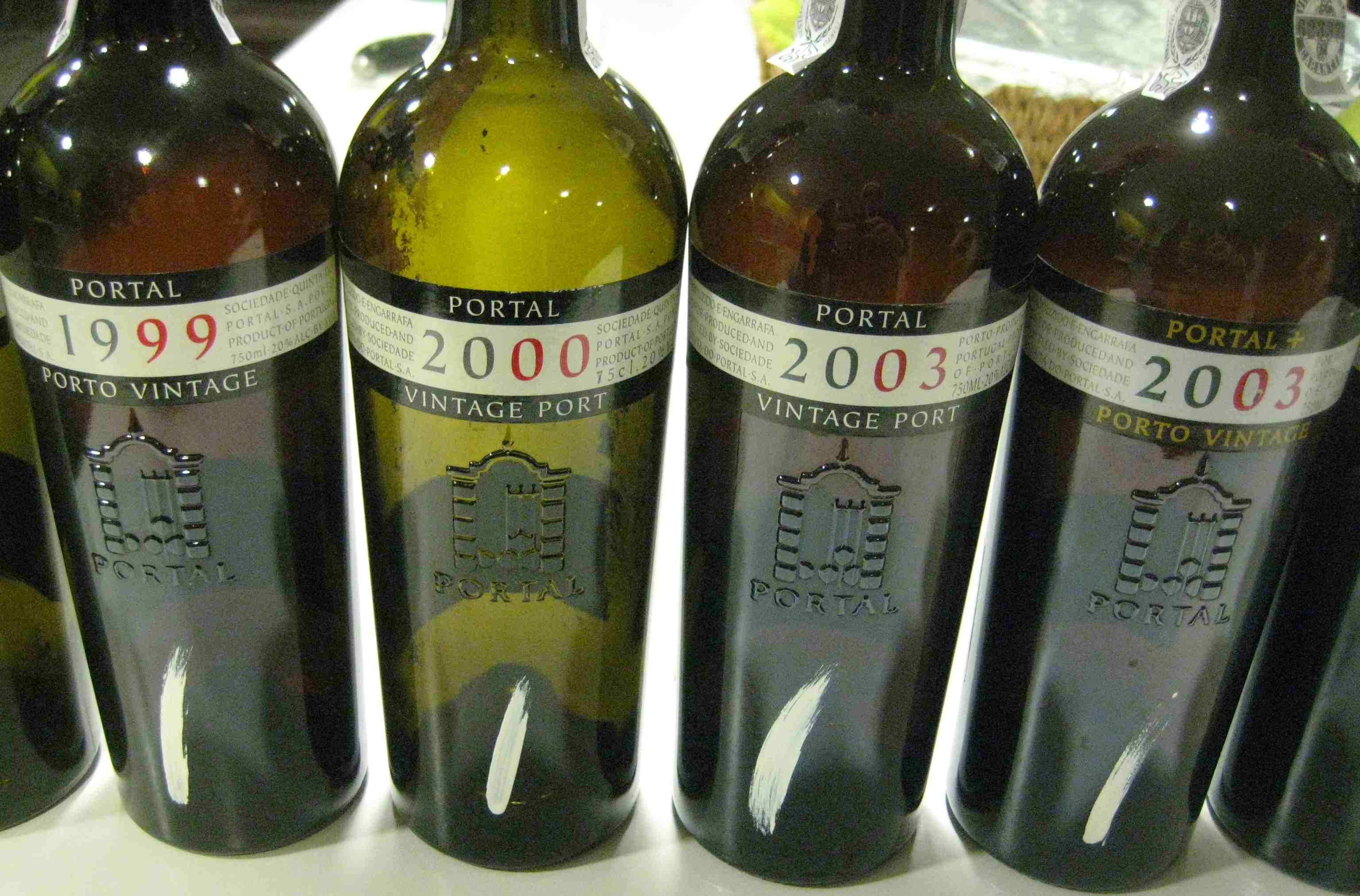 Overall the tasting was an eye opener for many in the group that the less known producers located in the Douro valley can deliver Vintage Ports of a consistent and high level. For us it was a fantastic opportunity to be able to sit down and analyse all of these Vintage Ports at the same time. Considering the high notes on the older examples in the tasting we look forward to the bright future for this Producer and their wine maker Paolo Coutinho.
Tasting notes. Note that the points are for the actual bottle tasted. Read about how we set point on the page "How to understand our points valuations"

Sort on: Vintage Sten's rank Jörgen's rank Stefan's rank Group's rank

House
Portal
Vintage
1995
Colour
Dark but yellow in colour.
Bouquet
Quite nice coffee, cream candy, fudge, some cacao and tea in the nose.
Taste
Medium body. Quite mature and peaking. Balanced buts some very soft tannin is still there. Cream candy, candy and fudge in taste. Rather complex with a nice but rather dry finish. Easy to like and drink indeed.
SAI point
15.90
JB point
16.40
SS point
16.50
Group point
16.21
SAI rank
6
JB rank
2
SS rank
2
Group rank
2
Comment
House
Portal
Vintage
1997
Colour
Still quite dark but mature, yellow in colour.
Bouquet
Cream candy, candy, apricot, oak, mulberry and orange in the nose.
Taste
Medium body. Mature and almost on top but still some tannin and will probably be better. Elegant and quite complex with a nice finish. Quite sweet. Easy to drink today and very enjoyable.
SAI point
16.25
JB point
16.90
SS point
16.75
Group point
16.50
SAI rank
1
JB rank
1
SS rank
1
Group rank
1
Comment
House
Portal
Vintage
1999
Colour
Mature yellow in colour.
Bouquet
Herbal, some toffee, fudge, crème caramel and old grocery shop in the nose.
Taste
Medium body. Mature and probably quite mature. Roses, toffee and some crème caramel in flavour. Balanced and easy to drink with a nice quite attractive finish. Very attractive and lovely port!
SAI point
16.00
JB point
15.50
SS point
15.50
Group point
15.54
SAI rank
4
JB rank
7
SS rank
10
Group rank
5
Comment
House
Portal
Vintage
2000
Colour
Yellow mature in colour but still rather dark.
Bouquet
Cherry, red mature berry, raisins and marzipan in the nose.
Taste
Medium body. Quite dry and mature, almost peaking but still some very soft tannin. Cherry, raisins and toffee in taste. Easy to drink and like. Elegant and balanced with a nice finish.
SAI point
16.25
JB point
15.75
SS point
16.40
Group point
15.57
SAI rank
1
JB rank
4
SS rank
3
Group rank
3
Comment
House
Portal
Vintage
2003
Colour
Still very dark in colour with a little yellow rim.
Bouquet
Mulberry, dark berry, blue berry, ginger and a little spiciness in the nose
Taste
Medium body. Rather mature and easy to drink even if some soft tannin exist. Dark fruit, mulberry, some chocolate and some spiciness in flavour. Very sweet but balanced and easy to like. Quite nice and attractive finish. Lovely port indeed!
SAI point
15.90
JB point
15.90
SS point
16.00
Group point
15.43
SAI rank
6
JB rank
3
SS rank
5
Group rank
6
Comment
House
Portal Plus
Vintage
2003
Colour
Dark blue in colour.
Bouquet
Dark cherry, dark chocolate, cacao and blueberry in the nose.
Taste
Medium body. Still soft tannin but rather mature. Balanced and quite attractive and easy to like and drink. A nice finish and enjoyable. Modern port.
SAI point
15.40
JB point
15.75
SS point
13.00
Group point
14.89
SAI rank
11
JB rank
4
SS rank
14
Group rank
10
Comment
House
Quinta do Portal
Vintage
2005
Colour
Dark in colour with a yellow rim.
Bouquet
Cherry, mulberry, black berry roasted oak and mint in the nose.
Taste
Medium body. Rather mature but still some soft tannin. Mint and mulberry in flavour. Some integrated oak. Balanced and quite complex. Very nice and interesting finish. Very enjoyable now.
SAI point
15.40
JB point
15.40
SS point
15.90
Group point
14.71
SAI rank
11
JB rank
12
SS rank
7
Group rank
12
Comment
House
Quinta do Portal
Vintage
2006
Colour
Dark blue in colour with a yellow rim.
Bouquet
Fruit, mulberry, dark berry, cherry, herbs and blueberry in the nose.
Taste
Medium body. Still some very soft tannin but rather enjoyable. Mulberry, dark berry and herbs in flavour. Nice fruit and good balanced with quite an elegant but tannic finish.
SAI point
15.40
JB point
15.50
SS point
16.00
Group point
15.29
SAI rank
11
JB rank
7
SS rank
5
Group rank
8
Comment
House
Portal
Vintage
2007
Colour
Very dark blue in colour but with a yellow rim.
Bouquet
Dark berry, mulberry but also some cacao, coffee, vanilla and spiciness in the nose.
Taste
Medium body. Very agreeable to drink with quite soft tannins. Lots of intense fruit, mulberry, spiciness and dark berry but also vanilla and cacao in flavour. Easy to drink and like. A very elegant port with a nice balanced and long finish. Will of course be much better and very interesting to follow.
SAI point
16.25
JB point
15.50
SS point
16.25
Group point
15.39
SAI rank
1
JB rank
7
SS rank
4
Group rank
7
Comment
House
Quinta do Portal
Vintage
2008
Colour
Dark blue in colour with a hint of a yellow rim.
Bouquet
Blackberry, mulberry, black cherry, fruit, some eucalyptus and roasted oak in the nose.
Taste
Medium body. Good tannins but quite easy to drink and like already. Quite dry. Dark berry, fruit and some oak in flavour. Quite nice but not so long finish.
SAI point
15.50
JB point
15.40
SS point
15.75
Group point
15.04
SAI rank
9
JB rank
12
SS rank
9
Group rank
9
Comment
House
Quinta do Portal
Vintage
2009
Colour
Still very dark blue in colour.
Bouquet
Blackberry, black cherry, mulberry, some Christmas raisins, liquorice, toffee and roasted oak in the nose.
Taste
Medium body. Lovely tannins and nice fruit. Balanced. Loaded with dark berry but also liquorice and toffee in flavour. Quite sweet. Elegant with a nice finish. Easy to drink and enjoy.
SAI point
15.90
JB point
15.75
SS point
15.90
Group point
15.57
SAI rank
6
JB rank
4
SS rank
7
Group rank
3
Comment
House
Portal
Vintage
2011
Colour
Dark blue in colour.
Bouquet
Dark berry, mulberry, cacao, dark chocolate, toffee and cream candy in the nose.
Taste
Medium body. Tannin but quite drinkable and enjoyable. Balanced, elegant and very promising with some sweetness. Dark berry, toffee, cacao and cream candy in taste. Nice and quite attractive finish. Still very promising.
SAI point
16.00
JB point
15.50
SS point
15.50
Group point
14.89
SAI rank
4
JB rank
7
SS rank
10
Group rank
10
Comment
House
Quinta dos Muros Portal
Vintage
2013
Colour
Very dark blue in colour.
Bouquet
Dark berries, roasted vats, blackberries, dark cherry, some spiciness and cinnamon in the nose.
Taste
Medium body. Immature but quite sweet at first. Lots of tannin and a promising port. Balanced and easy to drink and enjoy already now. Loaded with dark berry and spiciness. Modern style of port with a nice and very promising finish. Will be interesting to follow.
SAI point
15.40
JB point
15.40
SS point
15.40
Group point
14.36
SAI rank
11
JB rank
12
SS rank
12
Group rank
14
Comment
House
Quinta dos Muros Portal
Vintage
2014
Colour
Dark blue almost black in colour.
Bouquet
Dark berry, mulberry, some spiciness, cacao and fruit in the nose.
Taste
Medium body. Immature with lots of tannin. Some sweetness and loaded with dark berry and fruit. Not hard to swallow and easy to drink and enjoy. Modern style of port with a nice finish
SAI point
15.50
JB point
15.50
SS point
15.25
Group point
14.43
SAI rank
9
JB rank
7
SS rank
13
Group rank
13
Comment