Great Vintage Port Tasting
Calem
Axel Probst (https://worldofport.de/) arranged a vertical of Calem on the 19th of November 2016 at the Bayer Gastronomie, Leverkusen, Germany. The tasting was over 24 wines and was served open, meaning that we knew which wine was in which glass. The oldest wine was a Colheita from 1927, the rest were Vintage Ports spanning from 1931 up to a cask sample of the 2015 Vintage. All wines, except Vintage 1985 which was volatile, were ok and in good condition. We found the wines to be generally very good and with an elegant, smooth style that were persistent through the different Vintages. It was hard to find the winner but some of out favourites were 1931, 1955, 1960, 1963 and 1966.
Calem is together with Quinta do Noval and Ferreira perhaps the leading Portuguese houses. It was founded 1859. Calem was by this time dedicated only to wine exports to Brazil in exchange of exotic woods but its main market has always been Portugal. It belonged to the Calem family until 1998 when Sogevinus bought it.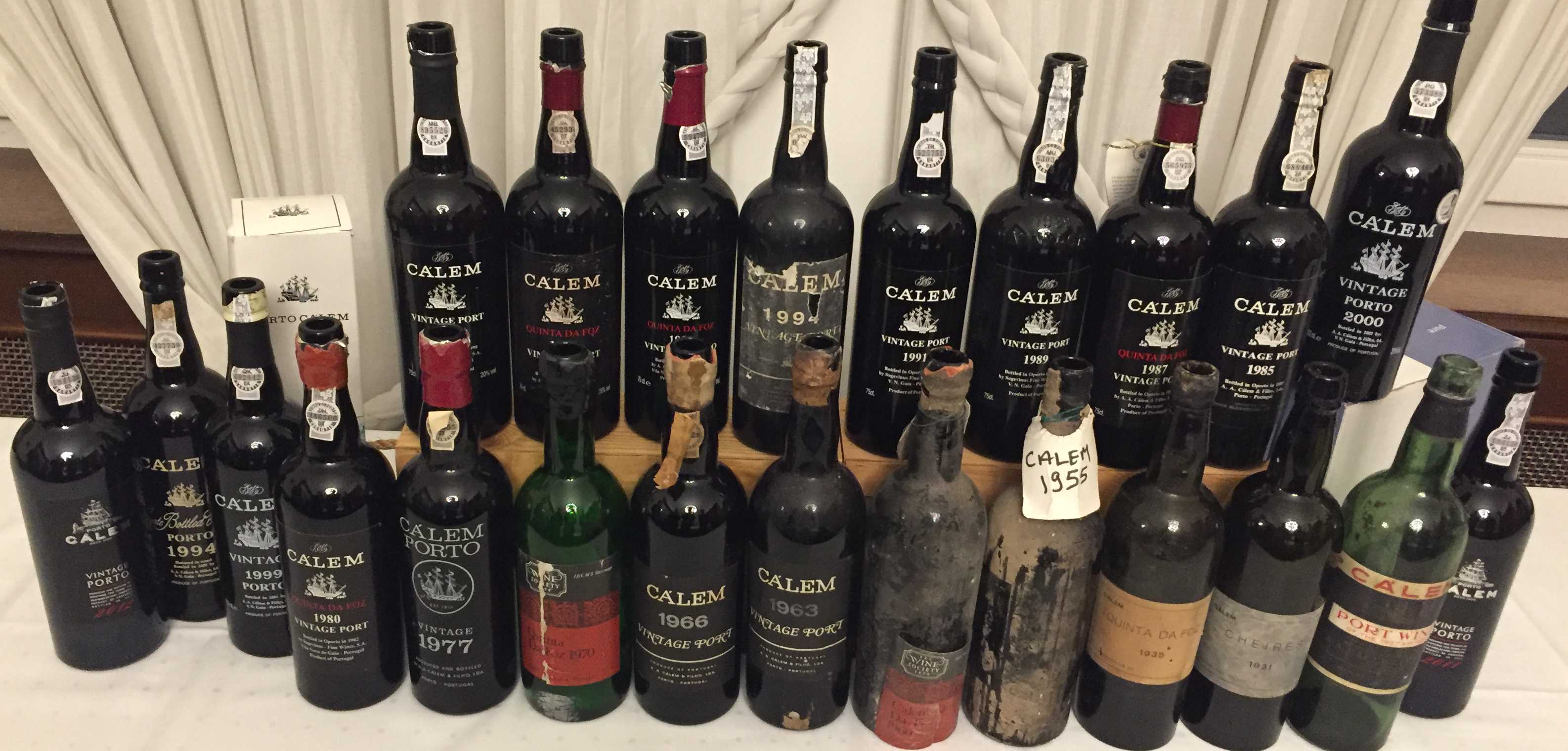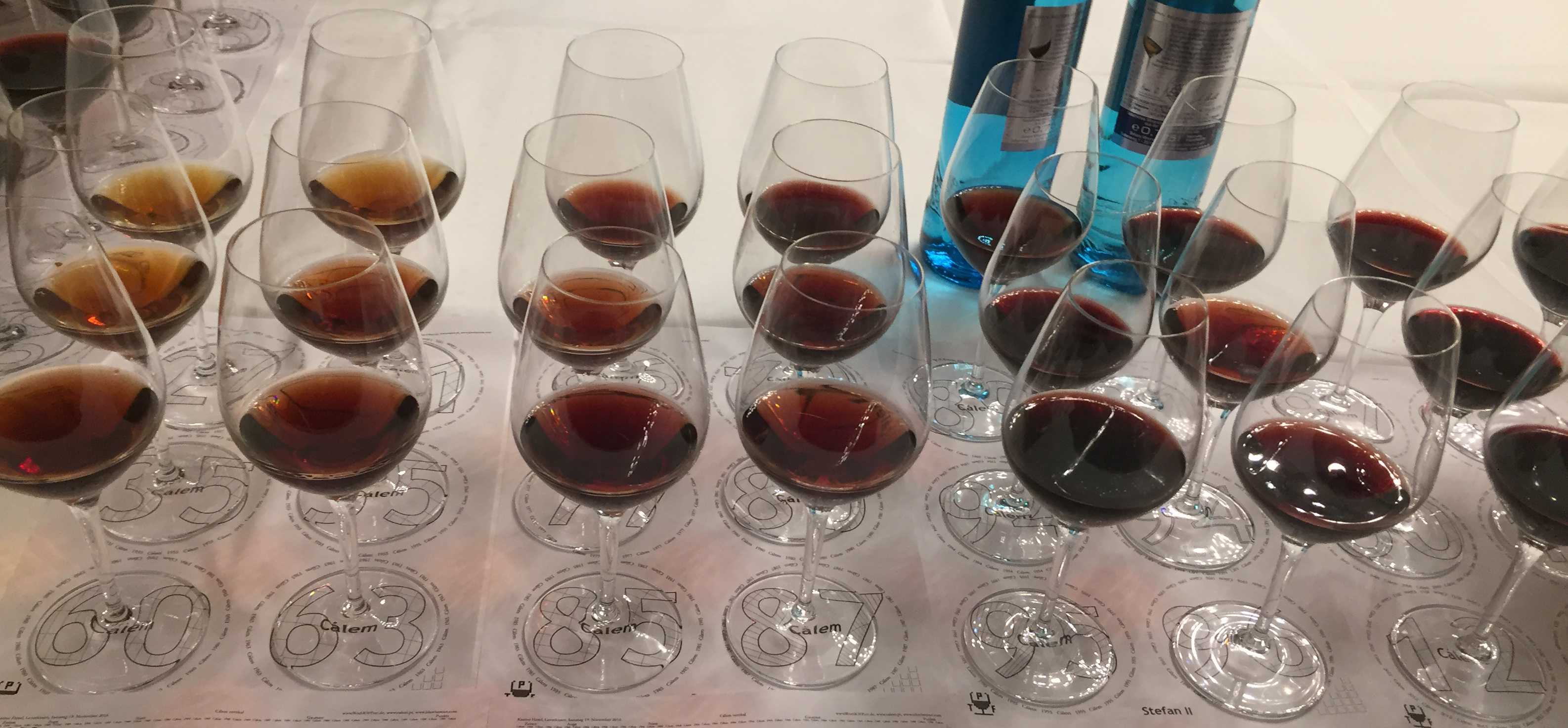 Tasting notes. Note that the points are for the actual bottle tasted. Read about how we set point on the page "How to understand our points valuations"

Sort on: Vintage Sten's rank Jörgen's rank Stefan's rank

House
Calem Colheita
Vintage
1927
Colour
Tawny in colour.
Bouquet
Butter-scotch, burned sugar and bonbons in the nose.
Taste
Medium body. Mature and peaking. An elegant and balanced port with butterscotch and bonbons in taste. A hint of burned sugar in the nice finish.
SAI point
16.50
JB point
17.25
SS point
16.50
SAI rank
8
JB rank
6
SS rank
10
Comment
This was a Colheita as it was stated 'Matured in wood' on the label.
House
Cheiras Calem
Vintage
1931
Colour
Almost tawny in colour.
Bouquet
Wonderful bouquet! Roses, spring flowers, crème caramel, toffee and much, much more in the nose.
Taste
Medium body. Of course mature and peaking. Very tasty with roses, crème caramel, toffee and butter-scotch in taste. Sweet with balanced acidity. Very complex and an unbelievable finish which never end. Marvellous port indeed!
SAI point
17.75
JB point
18.00
SS point
17.50
SAI rank
1
JB rank
1
SS rank
2
Comment
This was a Vintage bottled a bit late, in 1937, but at that time there were no strict law that restricted allowed bottling times.
House
Quinta da Foz Calem
Vintage
1935
Colour
Almost tawny in colour and quite pale.
Bouquet
Dark chocolate, mushroom, toffee, cacao, roasted coffee beans in the nose.
Taste
Medium body. Mature and peaking and even a little old. Cacao, mushroom and toffee in taste. Balanced and quite complex with a attractive and quite long finish
SAI point
17.00
JB point
16.50
SS point
16.90
SAI rank
7
JB rank
8
SS rank
8
Comment
House
Calem
Vintage
1955
Colour
Yellow, mature almost tawny but very beautiful in colour.
Bouquet
Orange peel, toffee, mint, butter-scotch, vanilla, coffee and cacao in the nose.
Taste
Medium body. Mature and peaking. Seem still to be on top! Unbelievable! Very, very elegant and still balanced. Attractive and complex finish which a just rolling in the mouth and never seems to end. A very impressive port indeed! Thank heaven for this port!
SAI point
17.75
JB point
17.40
SS point
17.75
SAI rank
1
JB rank
2
SS rank
1
Comment
House
Quinta da Foz Calem
Vintage
1960
Colour
Beautiful yellow and amber I colour. Quite mature.
Bouquet
Toffee, cacao, some coffee, dark chocolate and other things as spiciness in the nose
Taste
Medium body. Mature and peaking. Absolutely on top! Toffee, cacao and coffee in taste. Balance with lovely sweetness. Very complex and astonishing elegance with a wonderful finish. Will not be better but is marvellous now!
SAI point
17.25
JB point
17.40
SS point
17.25
SAI rank
6
JB rank
2
SS rank
5
Comment
House
Calem
Vintage
1963
Colour
Yellow mature beautiful in colour but still rather dark.
Bouquet
Wonderful complex old grocery shop, cinnamon, Christmas spiciness, coffee, butter-scotch, gingerbread and toffee bouquet.
Taste
Full-bodied. Very tasty indeed. Mature and at its peak. Butter-scotch, gingerbread, toffee and crème caramel in taste. Complex, sweet, balanced and elegant with an enormous finish which never seems to end. Wonderful port! Just drink it, enjoy and you are near heaven!
SAI point
17.50
JB point
17.40
SS point
17.50
SAI rank
4
JB rank
2
SS rank
2
Comment
House
Calem
Vintage
1966
Colour
Beautiful yellow and amber in colour.
Bouquet
Lovely bouquet of cacao, dark chocolate, coffee, gingerbread, cinnamon, old grocery shop and flowers in the nose.
Taste
Full-bodied. Mature, peaking and absolutely on top! Quite sweet but balanced and very elegant. Cacao, dark chocolate, coffee, gingerbread, cinnamon and much more in taste. Very complex indeed with a marvellous and sensational finish which never seem to end. What a port!
SAI point
17.75
JB point
17.40
SS point
17.25
SAI rank
1
JB rank
2
SS rank
5
Comment
House
Quinta da Foz Calem
Vintage
1970
Colour
Mature, yellow very beautiful in colour.
Bouquet
Toffee, coffee, butter-scotch, some fudge and crème caramel bouquet. Very complex and full nose.
Taste
Wonderful mature port and peaking. Crème caramel and toffee in taste. Balance with a hint of acidity but old balancing sweetness. Elegant with a complex, attractive and quite long finish. A wonderful port and probably at its best.
SAI point
17.40
JB point
17.25
SS point
17.40
SAI rank
5
JB rank
6
SS rank
4
Comment
House
Calem
Vintage
1977
Colour
Very mature and yellow in colour.
Bouquet
Gingerbread, cinnamon, dried fruit, toffee, some cacao and coffee in the nose.
Taste
Almost full-bodied. Mature and now peaking but still with some soft tannin. Gingerbread and toffee in taste. Balanced and quite sweet. A complex port very easy to drink and like today with a very attractive finish.
SAI point
16.50
JB point
16.40
SS point
17.00
SAI rank
8
JB rank
9
SS rank
7
Comment
House
Quinta da Foz Calem
Vintage
1980
Colour
Yellow mature quite nice in colour.
Bouquet
Toffee, butter-scotch, crème caramel and sweet candy in the nose.
Taste
Medium body. Mature and peaking. Crème caramel and butter-scotch in taste. Elegant and balanced but quite sweet. An quite attractive port with a nice finish. Will not be better but enjoy it now!
SAI point
16.00
JB point
15.50
SS point
16.25
SAI rank
13
JB rank
14
SS rank
12
Comment
House
Calem
Vintage
1985
Colour
Yellow mature in colour.
Bouquet
Pharmacy, old hospital and volatile acidity in the nose.
Taste
Medium body. Mature but with quite a lot of volatile acidity. Not so enjoyable at all but maybe drinkable? The finish is acceptable.
SAI point
12.00
JB point
13.00
SS point
11.00
SAI rank
23
JB rank
23
SS rank
23
Comment
This bottle is defect
House
Quinta da Foz Calem
Vintage
1987
Colour
Still quite dark but mature yellow in colour.
Bouquet
Butter-scotch, dark chocolate roasted coffee beans and some cacao in the nose.
Taste
Medium body. Mature and now peaking. Elegant, easy to drink and to enjoy. Sweet but balance with an excellent finish.
SAI point
16.25
JB point
16.00
SS point
16.40
SAI rank
12
JB rank
11
SS rank
11
Comment
House
Calem
Vintage
1989
Colour
Rather pale but mature yellow in colour.
Bouquet
Bonbons, toffee, fudge, and candy in the nose.
Taste
Medium body Mature and peaking with toffee and crème caramel in taste. Quite sweet and elegant port. Easy to drink and enjoy but will not be better so drink up.
SAI point
15.40
JB point
15.50
SS point
15.25
SAI rank
17
JB rank
14
SS rank
19
Comment
House
Calem
Vintage
1991
Colour
Still rather dark but with a mature yellow colour.
Bouquet
Very intensive bouquet of dark chocolate, toffee, cacao, liquorice, gingerbread and candy in the nose.
Taste
Almost full-bodied. Mature and peaking. Sweet with cacao and gingerbread in taste. Balanced and quite elegant with a quite impressive and rather long finish.
SAI point
16.40
JB point
16.00
SS point
16.25
SAI rank
10
JB rank
11
SS rank
12
Comment
House
Calem
Vintage
1994
Colour
Still very dark in colour but with a yellow edge.
Bouquet
Cacao, coffee, dark chocolate, spring flowers and much more in the nose.
Taste
Quite full-bodied. Quite mature and almost peaking but will probably be better. Balanced and quite complex. Dark chocolate and cacao in taste. An elegant port with an attractive finish.
SAI point
16.40
JB point
16.40
SS point
16.75
SAI rank
10
JB rank
9
SS rank
9
Comment
House
Quinta da Foz Calem
Vintage
1995
Colour
Still quite dark but with a yellow mature edge in colour.
Bouquet
Christmas spiciness, cacao, overripe fruit and roasted coffee in the nose.
Taste
Medium body. Mature and probably peaking. Cacao, coffee and overripe fruit in taste. Balanced and interesting. Easy to drink and like with a nice finish.
SAI point
15.25
JB point
15.40
SS point
14.50
SAI rank
19
JB rank
18
SS rank
22
Comment
House
Quinta da Foz Calem
Vintage
1996
Colour
Yellow mature in colour.
Bouquet
Gingerbread, ginger and some spiciness in the nose.
Taste
Medium body. Mature and peaking. Balanced with gingerbread, and some spiciness in taste. Will probably not be better. Quite nice finish and easy to drink and like.
SAI point
15.50
JB point
14.90
SS point
15.90
SAI rank
16
JB rank
20
SS rank
15
Comment
House
Calem
Vintage
1997
Colour
Dark but yellow mature in colour.
Bouquet
Dark chocolate, cacao, Christmas raisin, old grocery shop and much more in the nose.
Taste
Medium body. Mature and now peaking. Cacao, dark chocolate and old grocery shop in flavour. Rather sweet. Complex and balanced with a rather long and attractive finish.
SAI point
15.75
JB point
15.75
SS point
15.75
SAI rank
14
JB rank
13
SS rank
16
Comment
House
Calem
Vintage
1999
Colour
Still rather dark but yellow mature in colour.
Bouquet
Still dark berry, mulberry and blue berry in the nose. Very generous.
Taste
Medium body. Quite mature and probably peaking but still with some very soft tannin. Balanced and quite elegant with dark berry and mulberry in taste. Lovely port with a nice and rather attractive finish.
SAI point
15.40
JB point
15.50
SS point
15.50
SAI rank
17
JB rank
14
SS rank
17
Comment
House
Calem
Vintage
2000
Colour
Dark blue in colour.
Bouquet
Mulberry, dark cherry, vanilla, a hint of spiciness and oak in the nose.
Taste
Medium body. Quite mature almost peaking but lots of soft tannin and will be better. Mulberry and vanilla in flavour. Very promising and very sweet. Lovely and promising finish. We think this will probably be a nice port.
SAI point
15.75
JB point
15.50
SS point
16.00
SAI rank
14
JB rank
14
SS rank
14
Comment
House
Calem
Vintage
2011
Colour
Dark blue in colour.
Bouquet
Mulberry, dark cherry, blackberry, dark berry and fruit in the nose.
Taste
Medium body. Loaded with fruit and mulberry and dark cherry in taste. Balanced and very easy to drink and enjoy. Modern style of port. Quite elegant and tasty with a nice and rather long finish but is not directly impressive.
SAI point
15.25
JB point
15.00
SS point
15.40
SAI rank
19
JB rank
19
SS rank
18
Comment
House
Calem
Vintage
2012
Colour
Dark blue in colour.
Bouquet
Mulberry, blackberry, dark berry in the nose.
Taste
Medium body. Loaded with fruit but not much tannin. Easy to drink and enjoy but no long runner. Blackberry and dark berry in taste. Balanced but a modern style of port with a rather short but nice finish.
SAI point
14.40
JB point
14.40
SS point
15.00
SAI rank
21
JB rank
21
SS rank
20
Comment
House
Calem
Vintage
2015
Colour
Dark blue in colour.
Bouquet
Juice, berry and fruit in the nose.
Taste
Medium body. Not much tannin at all but loaded with fruit. Still juice and fruit in taste. Balance. Modern type of port with a rather short finish
SAI point
14.00
JB point
14.40
SS point
15.00
SAI rank
22
JB rank
21
SS rank
20
Comment
This was a cask sample