Semi-Great Vintage Port Tasting
Vintage 1988
The Wine Society 18% had a Semi-Great Tasting 15 September 2016 of the Vintage 1988. This Vintage was an off vintage, and was judge as Average. Known Brands was 16 and only 11 houses declared. Michael Broadbent gave this vintage * out of 5*.
We call it Semi-Great because we had only 10 Vintages and 1 LBV and not 20 Vintages which is our limit for calling it a Great Tasting. In addition to the 11 Vintages we had one extra port in order to remember one of our members who have died during the summer. This was a Vintage 1931 from Hunt. We were 14 participants in the tasting. The tasting was blind.
See Our Points to translate it to 100 points scale. The vintage made some very attractive wines, but it is not surprising none of the major houses declared 1988. We think the wines are rather lean and one-dimensional, but some are very attractive and worth hunting and some will even develop a little more which surprise us.
Terra Feita and Vargellas 1988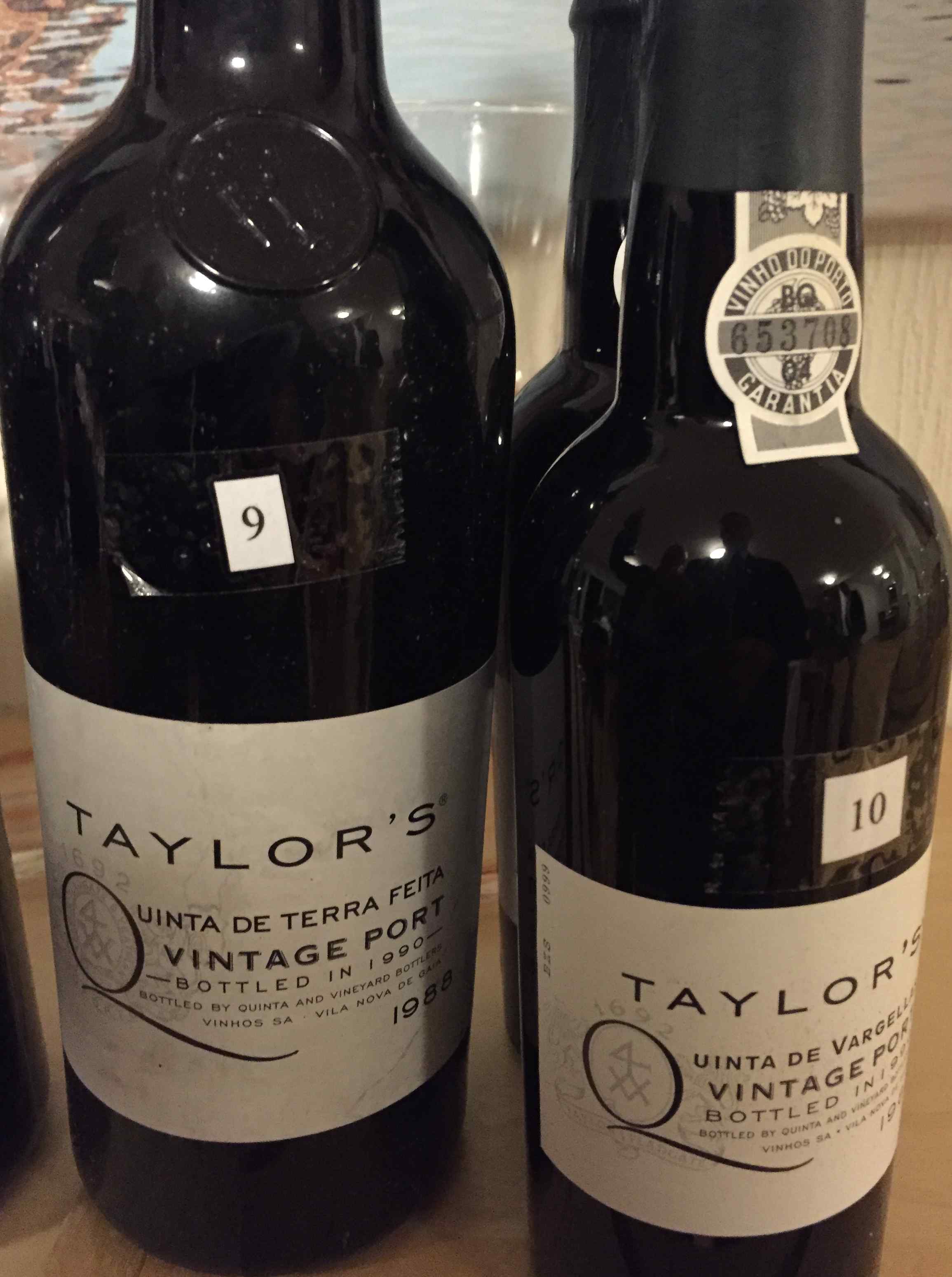 Tasting notes. Note that the points are for the actual bottle tasted. Read about how we set point on the page "How to understand our points valuations"

Sort on: Name Sten's rank Jörgen's rank Stefan's rank Group's rank

House
Churchill LBV
Vintage
1988
Colour
Still blue and dark in colour.
Bouquet
Mulberry, toffee, cacao, some violet and vanilla in the nose.
Taste
Medium body. Mature and peaking. Cacao and toffee in taste. Quite elegant but rather dry with a rather short but quite nice finish
SAI point
15.90
JB point
15.75
SS point
15.25
Group point
15.11
SAI rank
7
JB rank
4
SS rank
9
Group rank
7
Comment
bottled 1993
House
Fonseca Guimaraens
Vintage
1988
Colour
Still very dark but with a yellow mature colour.
Bouquet
Toffee, cacao, butterscotch, violet, ginger and old grocery shop in the nose.
Taste
Quite full-bodied. Mature and now almost peaking but will probably be better. Elegant and balanced port. Very tasty with cacao, coffee, butterscotch and much more in taste. Complex with a wonderful finish.
SAI point
16.90
JB point
16.75
SS point
16.75
Group point
16.70
SAI rank
1
JB rank
1
SS rank
1
Group rank
3
Comment
House
Quinta do Bomfim Dow
Vintage
1988
Colour
Mature, quite yellow in colour.
Bouquet
Fudge, crème caramel, dark chocolate dark berry and vanilla in the nose.
Taste
Almost full-bodied. Mature and peaking and surprisingly sweet but balanced and elegant. Tasty with violet and cacao in the mouth. Quite long and attractive finish.
SAI point
16.00
JB point
15.40
SS point
15.50
Group point
15.39
SAI rank
6
JB rank
9
SS rank
7
Group rank
5
Comment
House
Quinta da Cavadinha Warre
Vintage
1988
Colour
Amber, yellow mature in colour.
Bouquet
Toffee, crème caramel, liquorice, dried fruit, cacao and roasted coffee in the nose.
Taste
Medium body. Mature and now peaking. Elegant and balanced but quite sweet. Cacao, peaches and dried fruit in taste. Quite nice finish.
SAI point
15.90
JB point
15.50
SS point
15.40
Group point
14.61
SAI rank
7
JB rank
7
SS rank
8
Group rank
9
Comment
House
Quinta do Panascal
Vintage
1988
Colour
Yellow mature in colour.
Bouquet
Cacao, coffee, old grocery shop, cherry, some liquorice and dried fruit in the nose.
Taste
Medium body. Mature and peaking Will probably not be better but have still some elegant tannin. Cacao, dried fruit and some coffee in taste. Quite attractive finish.
SAI point
16.25
JB point
15.75
SS point
15.90
Group point
15.71
SAI rank
5
JB rank
4
SS rank
5
Group rank
4
Comment
House
Quinta de la Rosa
Vintage
1988
Colour
Mature, yellow in colour.
Bouquet
Crème caramel, cacao, toffee, coffee and dried fruit and Christmas spiciness in the nose.
Taste
Medium body. Mature and peaking. Will probably not be better but has still some very elegant and soft tannin. Christmas spiciness, cacao and dried fruit in taste. Balanced with sweetness but very elegant. Have a quite attractive and complex finish.
SAI point
16.40
JB point
15.90
SS point
15.75
Group point
16.25
SAI rank
4
JB rank
3
SS rank
6
Group rank
6
Comment
House
Quinta do Sagrado Calem
Vintage
1988
Colour
Yellow mature in colour.
Bouquet
Pharmacy, old hospital with ether but also some dark berry and dried fruit in the nose.
Taste
Medium body. Not balanced with some volatile acidity with some pharmacy in taste but quite drinkable but not quite enjoyable. Better in taste than in nose. The finish is acceptable.
SAI point
13.90
JB point
13.90
SS point
13.90
Group point
13.18
SAI rank
10
JB rank
10
SS rank
10
Group rank
10
Comment
This bottled is defect but not undrinkable
House
Quinta de Terra Feita Taylor
Vintage
1988
Colour
Still quite dark but yellow quite mature in colour.
Bouquet
Cacao, fudge, butterscotch, some roasted coffee and a hint of menthol in the nose.
Taste
Almost full-bodied. Mature and peaking. Some menthol and fudge in taste. Balanced a hint of sweetness but elegant with an attractive and quite long finish.
SAI point
16.50
JB point
16.00
SS point
16.50
Group point
16.11
SAI rank
3
JB rank
2
SS rank
2
Group rank
2
Comment
House
Quinta de Vargellas Taylor
Vintage
1988
Colour
Still very dark but a nice yellow mature rim in colour.
Bouquet
Crème caramel, some violet, butterscotch, liquorice, roasted coffee beans, and dark chocolate in the nose.
Taste
Almost full-bodied. Almost mature and peaking bur still soft tannin and will probably be better. Balanced and elegant. Violet, cacao and crème caramel in taste. A lovely complex port with a quite long and very attractive finish.
SAI point
16.75
JB point
15.75
SS point
16.40
Group point
16.25
SAI rank
2
JB rank
4
SS rank
3
Group rank
1
Comment
House
Quinta do Vau Sandeman
Vintage
1988
Colour
Yellow mature in colour.
Bouquet
Toffee, roasted coffee, fudge, cherry and cedar in the nose.
Taste
Medium body. Mature and on top. Sweet but balance and quite elegant. Butterscotch, cherry and fudge in taste. Rather long and very nice finish. Will not be better so drink up!
SAI point
15.75
JB point
15.50
SS point
16.25
Group point
15.00
SAI rank
9
JB rank
7
SS rank
4
Group rank
8
Comment