Semi-Great Vintage Port Tasting
Vintage 1958
Our wine club 'The Wine Society 18%' celebrates its 23rd anniversary this year. Since 2005 we have once a year had a Great Tasting of either a Vintage or a house. We are 15 members and have five meetings per year and then some extra every now and then. As we are only 15 members, we can have quite rare bottles in our tastings since one bottle is enough. The meetings are in Malm&ouml, Sweden. In November we have had Great Tastings and we have previously arranged such tastings of 1947, 1960, 1963 (twice), 1966, 1970, 1975, 1977, 1978, 1979, 1980, 1982, 1984 and 1988 and three times House Tastings which were Cockburn, Ferreira and Fonseca-Guimaraens.
We have found out that 20 different houses is a reasonable quantity needed to call it a Great Tasting so this tasting of the vintage 1958 is what we call a Semi-Great Tasting, as we had only 13 houses and 1 extra Old and Selected Tawny bottled on the 21st of May, 1958.
We were 17 participants in the tastings. We often have guests and if you are visiting Malm&ouml, please let us know and you can maybe participate next time. The tasting was semi-blind i.e. we knew which houses participated but not what we had in each glass.
The vintage 1958 is today 58 years old but the wines were very good and elegant on the whole with a lot of old sweetness and a balanced acidity. They were all very attractive in the finish and very easy to enjoy and drink! Maybe a bit surprisingly Gonzalez-Byass ended up in the top together with more well-known Sandeman and Warre's.
The 1958 Vintage is to be regarded as one of the classic Vintages, and we know of 21 houses who had declared this vintage and we know of 42 different brands from this vintage. After a cold and rainy summer, the beginning of October was very hot and the harvests were held under perfect conditions. However, some companies did not declare production because of the proximity of the excellent 1955 Vintage.
According to Broadbent 12 shippers declared this vintage. Broadbent gave this vintage *** out of 5*, Suckling 84 points out of 100 i.e. a Good Vintage. We rated it as Very Good Vintage and gave it 7 out of 10 points.
The bottles from the tasting.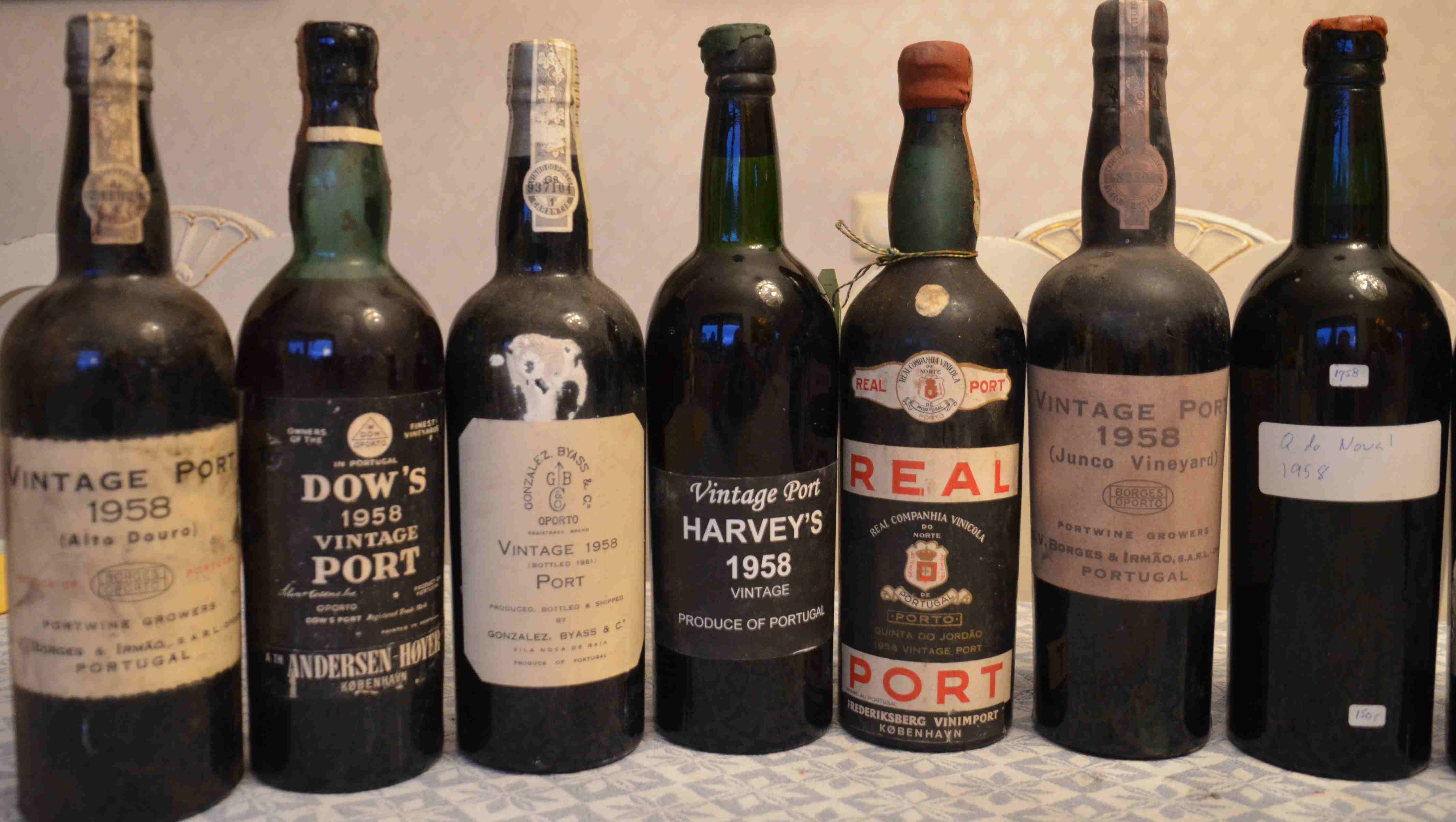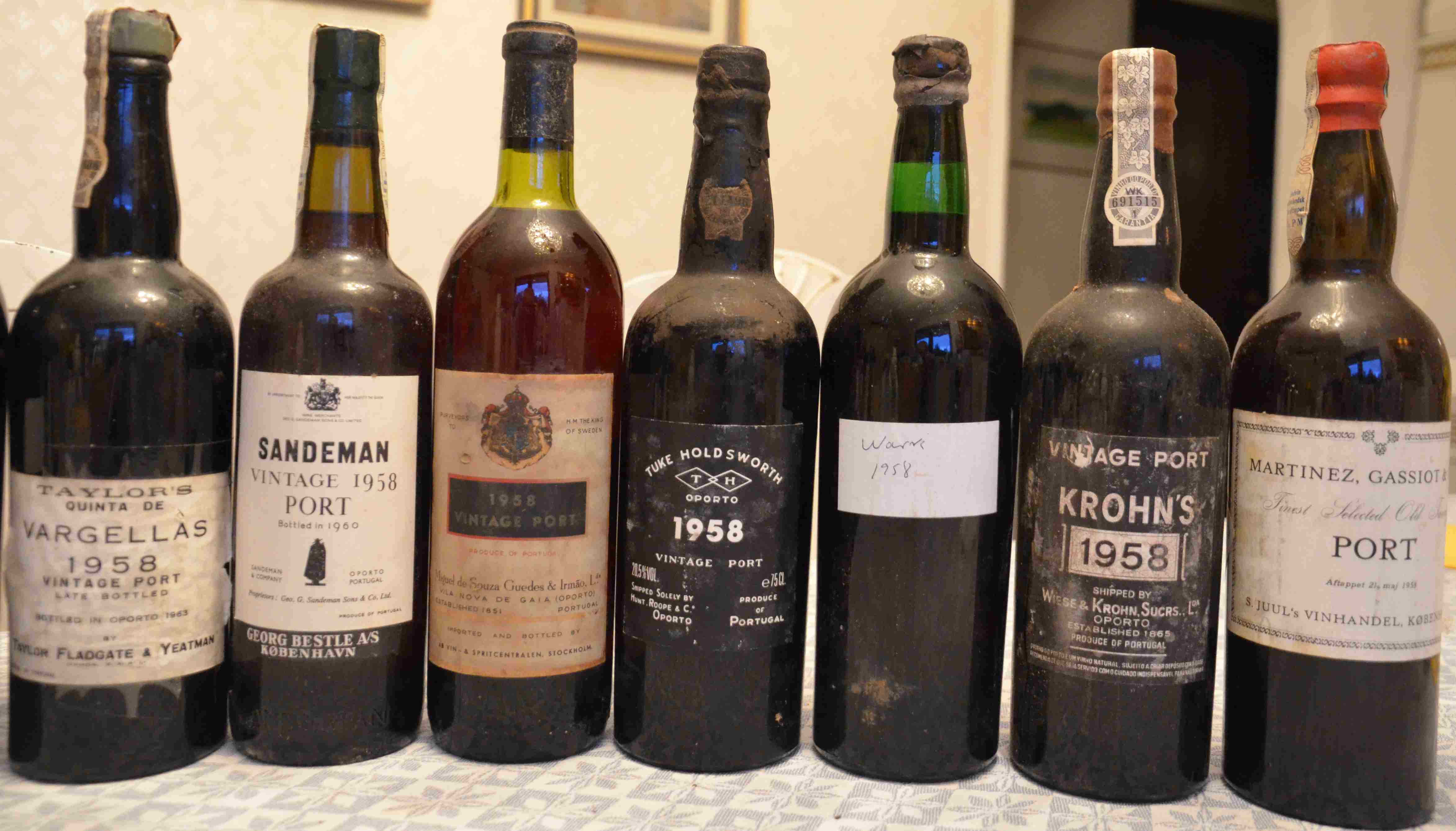 Warre's and Quinta do Noval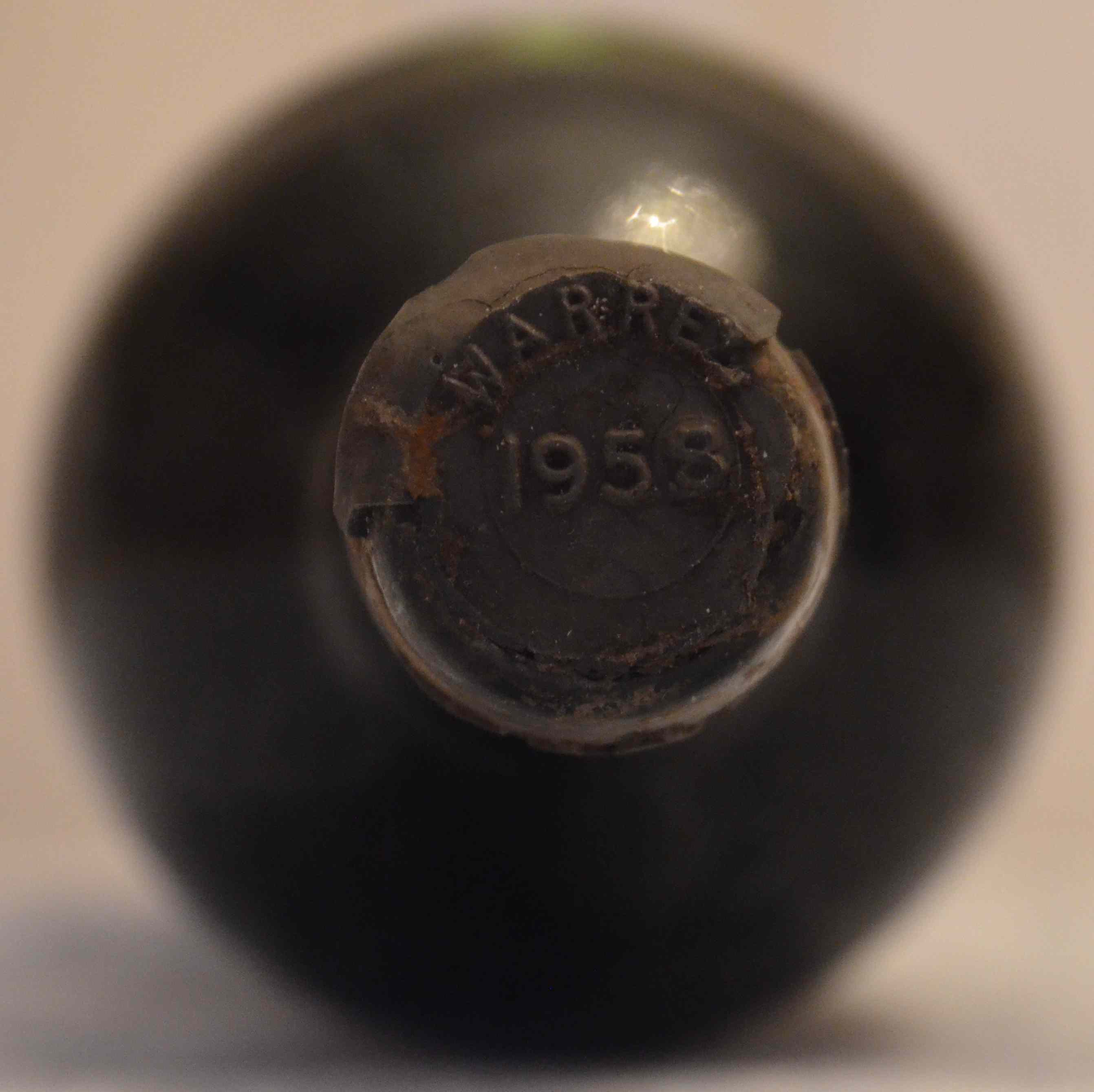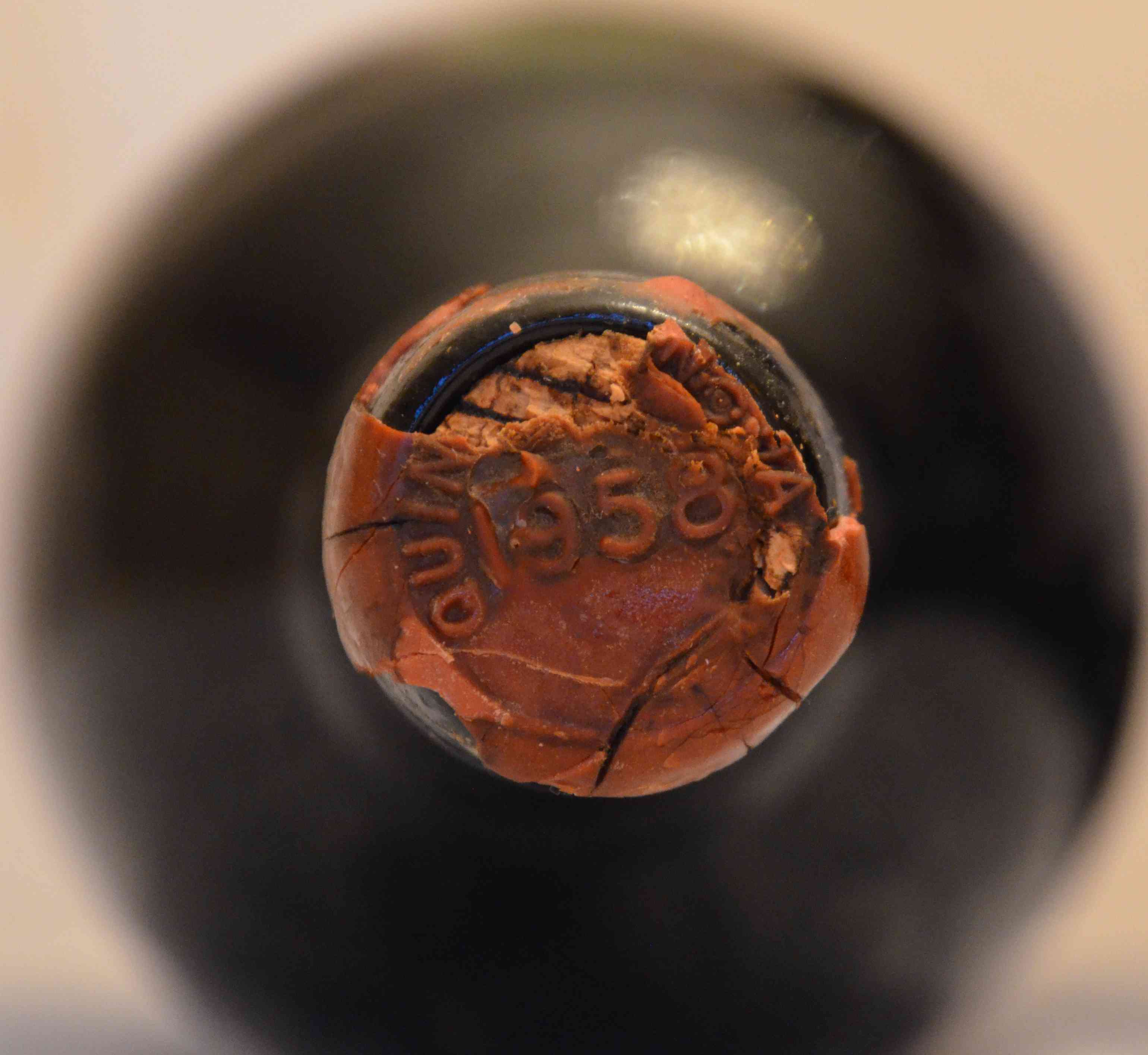 Tasting notes. Note that the points are for the actual bottle tasted. Read about how we set point on the page "How to understand our points valuations"

Sort on: Name Sten's rank Jörgen's rank Stefan's rank Group's rank

House
Borges & Irmao
Vintage
1958
Colour
Still rather dark but beautiful, amber and mature yellow in colour.
Bouquet
Toffee, butterscotch, fudge, roasted coffee beans, cacao, some Christmas raisin and candy in the nose.
Taste
Medium body. Mature and peaking but balanced with some acidity and some old sweetness. A lovely port easy to drink and enjoy now! Complex and with a long and attractive finish.
SAI point
16.90
JB point
16.75
SS point
17.00
Group point
15.68
SAI rank
6
JB rank
8
SS rank
5
Group rank
10
Comment
House
Dow
Vintage
1958
Colour
Mature yellow, quite beautiful in colour.
Bouquet
Toffee, crème caramel,, honey, mint and some herbs.
Taste
Medium and even light in the body. Mature and peaking. Quite dry and maybe a little "tired" but easy to drink and enjoy. Elegant and quite complex with maybe a little short but nice finish.
SAI point
16.75
JB point
16.90
SS point
16.00
Group point
15.68
SAI rank
7
JB rank
6
SS rank
9
Group rank
10
Comment
House
Gonzalez Byass
Vintage
1958
Colour
Beautiful, still rather dark but amber in colour.
Bouquet
Crème caramel, butter-scotch, fudge, some violet, Christmas raisin, cherry, cacao, dark chocolate, coffee in the nose.
Taste
Medium body. Mature and peaking, absolutely on top! Balanced with some elegant sweetness. Toffee, butterscotch, crème caramel and a lot of other things in the taste. Wonderful port with a long, attractive and complex finish.
SAI point
18.00
JB point
17.40
SS point
18.00
Group point
16.29
SAI rank
1
JB rank
4
SS rank
1
Group rank
4
Comment
House
Harvey
Vintage
1958
Colour
Rather dark but beautiful amber, mature in colour.
Bouquet
Lovely bouquet of butter-scotch, cream candy, bonbons, cacao and much more in the nose.
Taste
Medium body. Mature and peaking. Cannot be better and is absolutely on top! Elegant with some balanced acidity and old lovely sweetness. Butterscotch and cacao in taste. The finish is very long and very attractive. A lovely port indeed.
SAI point
17.90
JB point
16.50
SS point
17.90
Group point
16.25
SAI rank
2
JB rank
10
SS rank
2
Group rank
5
Comment
House
Finest and Selected Old Tawny Martinez & Gassiot
Vintage
0
Colour
Quite dark and tawny on colour with an olive-green edge.
Bouquet
Butterscotch, some toffee, crème caramel, bonbons and nuts in the nose.
Taste
Medium body. Mature. Balance and elegant port with crème caramel and butterscotch in taste. Lovely port with a quite attractive finish. Easy to drink and to like.
SAI point
16.40
JB point
17.75
SS point
16.25
Group point
16.71
SAI rank
8
JB rank
3
SS rank
8
Group rank
1
Comment
Bottled 21 May 1958
House
Quinta do Jordao Real Vinicola
Vintage
1958
Colour
Still rather dark but mature yellow in colour.
Bouquet
Cinnamon, some varnish but also toffee, butter-scotch, and Christmas spiciness in the nose.
Taste
Medium body. Mature and peaking. Quite elegant port. Toffee and butter-scotch in the taste. Complex and balanced port with a surprisingly attractive finish.
SAI point
16.00
JB point
16.90
SS point
16.00
Group point
15.75
SAI rank
11
JB rank
6
SS rank
9
Group rank
9
Comment
House
Quinta do Junco Borges & Irmao
Vintage
1958
Colour
Still very dark but with a yellow, mature edge in colour.
Bouquet
Christmas spiciness, cacao, dark chocolate, orange zest but rather flat and dull in the nose.
Taste
Medium body. Mature and probably peaking. Balanced but rather dull in taste but some cacao and spiciness exist. Still however some complexity and a nice finish.
SAI point
15.00
JB point
15.00
SS point
14.90
Group point
15.11
SAI rank
14
JB rank
13
SS rank
14
Group rank
13
Comment
House
Quinta do Noval
Vintage
1958
Colour
Almost tawny in colour.
Bouquet
Crème caramel, butter-scotch, fudge, Christmas raisin and some orange zest in the nose.
Taste
Medium body and maybe a little light. Mature and maybe even a little old. Balanced and enjoyable port. Butter-scotch and fudge in taste. Quite generous and with a nice finish but this port is not impressive and has probably been much better.
SAI point
15.25
JB point
14.50
SS point
15.90
Group point
14.43
SAI rank
13
JB rank
14
SS rank
13
Group rank
14
Comment
House
Quinta de Vargellas Taylor
Vintage
1958
Colour
Light tawny in colour.
Bouquet
Elegant fudge, sweetness, butter-scotch, and crème caramel in the nose.
Taste
Medium body. A light and very mature port with fudge in flavour. Rather complex with butter-scotch and sweetness in taste. Balanced and quite elegant with a quite interesting but rather short finish.
SAI point
15.90
JB point
16.25
SS point
16.00
Group point
15.68
SAI rank
12
JB rank
12
SS rank
9
Group rank
10
Comment
House
Sandeman
Vintage
1958
Colour
Beautiful, yellow mature almost amber in colour.
Bouquet
Ginger, cinnamon, butter-scotch, berry, some orange, toffee and crème caramel and even some Christmas spiciness in the nose.
Taste
Medium body. Mature and maybe even over its peak but sweet and elegant. Cinnamon, coffee, butter-scotch, spiciness and much more in flavour. A long and very attractive finish.
SAI point
17.25
JB point
17.90
SS point
17.50
Group point
15.96
SAI rank
4
JB rank
2
SS rank
3
Group rank
7
Comment
House
Souza, Guedes & Irmao
Vintage
1958
Colour
Mature yellow and amber in colour. Quite beautiful.
Bouquet
Coffee, tea, cacao, butterscotch some crème caramel and Christmas spiciness and mint in the nose.
Taste
Medium body. Mature, peaking and on top. Crème caramel and butterscotch and much more in taste. Balanced, with lovely sweetness and elegant port with a complex and long finish. Very good indeed.
SAI point
16.25
JB point
17.00
SS point
16.00
Group point
15.79
SAI rank
10
JB rank
5
SS rank
9
Group rank
8
Comment
House
Tuke Holdsworth Hunt, Roope & Co.
Vintage
1958
Colour
Mature yellow almost tawny in colour.
Bouquet
Violet, spring flower, some candy, toffee and mint and also wormwood in the nose.
Taste
Hardly medium body. Mature and at its peak. Toffee and flowers in flavour. Complex and balanced port with a quite attractive finish.
SAI point
16.40
JB point
16.75
SS point
16.50
Group point
16.11
SAI rank
8
JB rank
8
SS rank
7
Group rank
6
Comment
House
Warre
Vintage
1958
Colour
Still rather dark but mature yellow in colour.
Bouquet
Lovely bouquet of herbs, pepper, coffee, figs, butter-scotch, crème caramel and much more in the nose.
Taste
Medium body. Mature and at its peak. Absolutely on top! Balanced with a hint of acidity and some lovely old sweetness! Flavour of butter-scotch and old grocery shop. Complex and attractive port with a long and perfect finish. Wonderful just now but drink up.
SAI point
17.40
JB point
18.25
SS point
17.50
Group point
16.64
SAI rank
3
JB rank
1
SS rank
3
Group rank
2
Comment
House
Wiese & Krohn
Vintage
1958
Colour
Still rather dark but yellow mature in colour.
Bouquet
Sweetness, candy, butter-scotch, Christmas spiciness, cacao and liquorice in the nose.
Taste
Medium body. Mature and peaking and absolutely on top! Balanced and complex port with butterscotch and candy in taste. Very elegant with a quite long and very attractive finish.
SAI point
17.00
JB point
16.50
SS point
17.00
Group point
16.35
SAI rank
5
JB rank
10
SS rank
5
Group rank
3
Comment